Jirón de la Unión

Lima, Peru, 2009
Street intervention

Costume made of machine knitted fabric (wool and lurex).

I knitted a suit. I wanted to turn myself into some sort of social sculpture. I don't know what that means.

I went to a pedestrian street in the old colonial part of Lima. This street connects two main squares: Plaza San Martín and Plaza Mayor, where the Cathedral, Palace of Government and Municipal Palace are.

I distributed 500 keyrings and stickers a day before and after the day I wore the suit.

The day I wore the suit a friend was with me, she asked people to stick their hands into my suit and walk with me down the Jirón de la Unión. A lot of people did, and we walked up to the Palace of Government, and then we stood there. It was a nice day. There was one guy that was with me for the whole walk, he had his hand on the glove stuck on the top of my head. I don't know his name, but I feel I know him and will never forget him, even though I wouldn't be able to recognise him. When I returned the next day to hand out more stickers and keyrings, some people showed me pictures of me they took on their mobile phones. Some people asked questions, some didn't. I didn't have anything to say.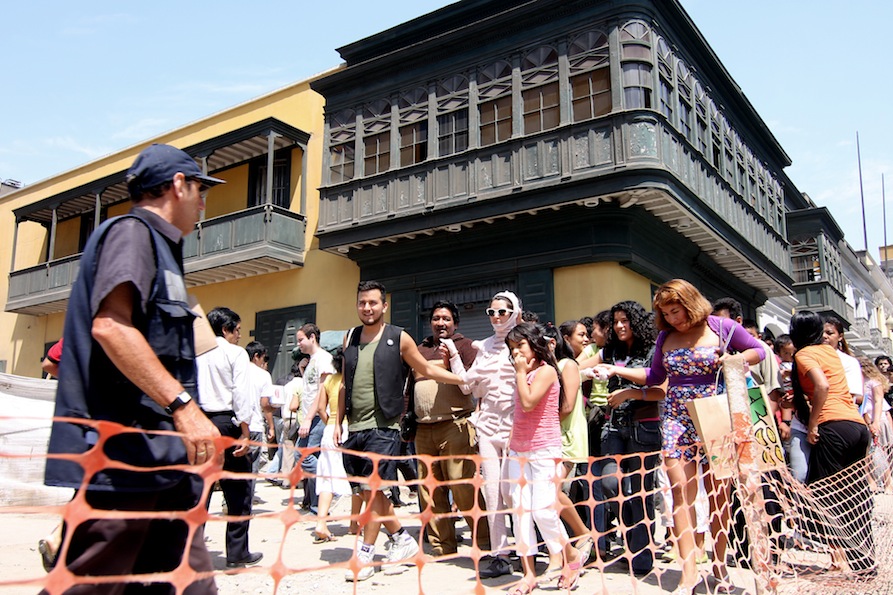 ---